---
Today, May 10, is Thank A Youth Worker Day.
When I started working as the Administrative Assistant for the Abbotsford Youth Commission back in September, I thought I had a pretty good idea of all the work this organization does in the community. Turns out, I had only scratched the surface! Over the past several months, it has been a true honour to learn about all the programs the AYC offers to youth in Abbotsford, and there are a LOT.
And while our programs deserve a lot of recognition in their own right, that's not what I am writing about today.
Today, I want to go behind the scenes. I want to talk about the people who make all of these programs happen.
If you have attended our youth centres, you will be familiar with Kenyon, Mandy and Dilraj. What you might not know is they put in a ton of work each day to prepare for and coordinate activities for our daily drop-in hours. It's not just about drop-in though. They also do lots of planning for Girls/Guys/Youth Night, the Nutrition program (supported by the Abbotsford Community Foundation and President's Choice Children's Charity), Guys Alive, Just For Girls, Youth Focus and Character (supported by the Ted Rogers Fund) ... you get the idea! One of their latest projects is bringing youth together to plan for Culture Fest, Culture Feast - a celebration of Multiculturalism Day happening on June 22 (supported by Canadian Heritage). It is really cool to overhear the planning process and the ideas that are being generated for this event.
At various times throughout the year, our office is busy with staff and practicum students as they prepare for Noon Hour games. Each staff and volunteer bring an energy and enthusiasm for their work with youth in our community. It is always a sad day when a practicum ends or a staff moves on - we've had some amazing student leaders and staff assist the AYC over the years - who have brilliant futures ahead of them.
What can I say about Christy and Bev? Let's talk about dedication. Wow! These two ladies are definitely committed to ensuring we have quality youth programming that is accessible to youth in Abbotsford. It is incredible to watch their creative process and their ability to turn their ideas into reality. I love that they include staff in this process, by doing so, they create an investment in our programs that generates excitement, enthusiasm and ownership. All of this translates into great opportunities for youth!
This is just a tiny peak inside the daily happenings here at the AYC. I can't say enough about how grateful I am to work with a group of people who care about youth so much.
Happy Thank A Youth Worker Day!
Karen Copeland, Administrative Assistant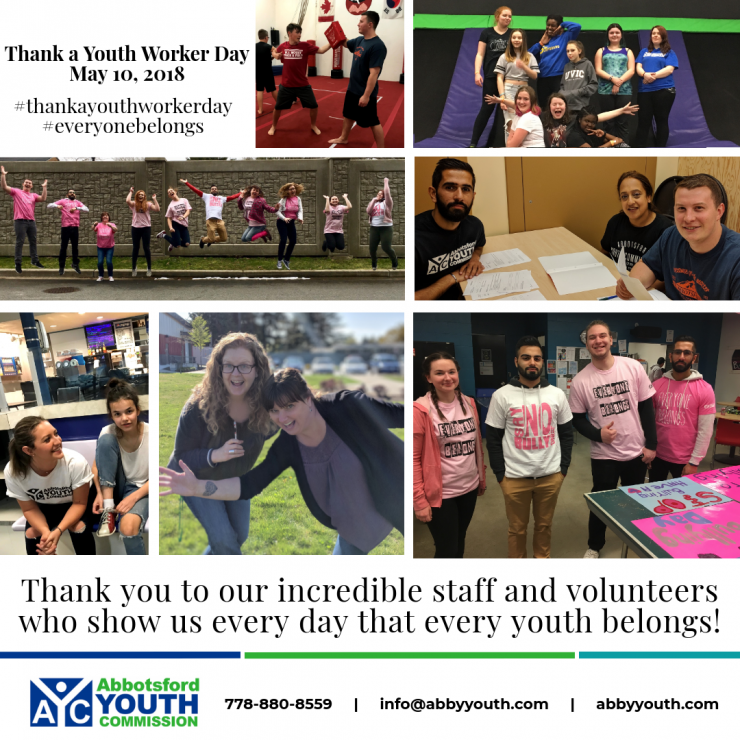 ---