This level one course is for service front line workers such as bus persons, servers, dishwashers and cooks. Foodsafe certificate provided with successful completion.
Ages: 14-18
Cost: $78
When:
Friday, Februrary 18th, 9am-5pm
**Please bring: A lunch, water bottle, and face mask.
---
LEAD (Lead, Explore and Develop) is designed to build self-confidence, create positive life skills and develop a sense of responsibility to the community. This is done through fun team building games and activities. LEAD members will take on planning and implementing a BC Youth Week event during the first week of May. LEAD is a stepping stone into our Youth Council group. Gain volunteer hours, and leadership and event planning skills!
Cost: $50
When: Wednesdays, from April 6- May 4 (5 sessions)
---
This Red Cross program will teach you the skills to care for infants to school aged children and help you become a responsible babysitter. Certificate provided upon completion.
Ages: 11-15
Cost: $60
When:
Friday, January 28th 9am-4:30pm
Friday, Febuary 18th 9am-4:30pm
**Please bring: A doll or teddy bear to practice diapering with; lunch and water bottle; face mask.
Mondays, 7-8:30pm
Jan 17- March 7 (Except Feb 21 for Family Day)
Join us for Wii Sports, Pool, Ping Pong and more!
⁠*No proof of vaccination is required for this program*
Tuesdays, 7-8:30pm
Jan 18- March 8
Join us for a variety of fun activities like bowling, laser tag, VRkade, and more! ⁠*Proof of vaccination is required for this program*
Participate at your own pace in active activities around Abbotsford like bowling, swimming, skating, VRkade, and more!
*Proof of vaccination may be required for some activities*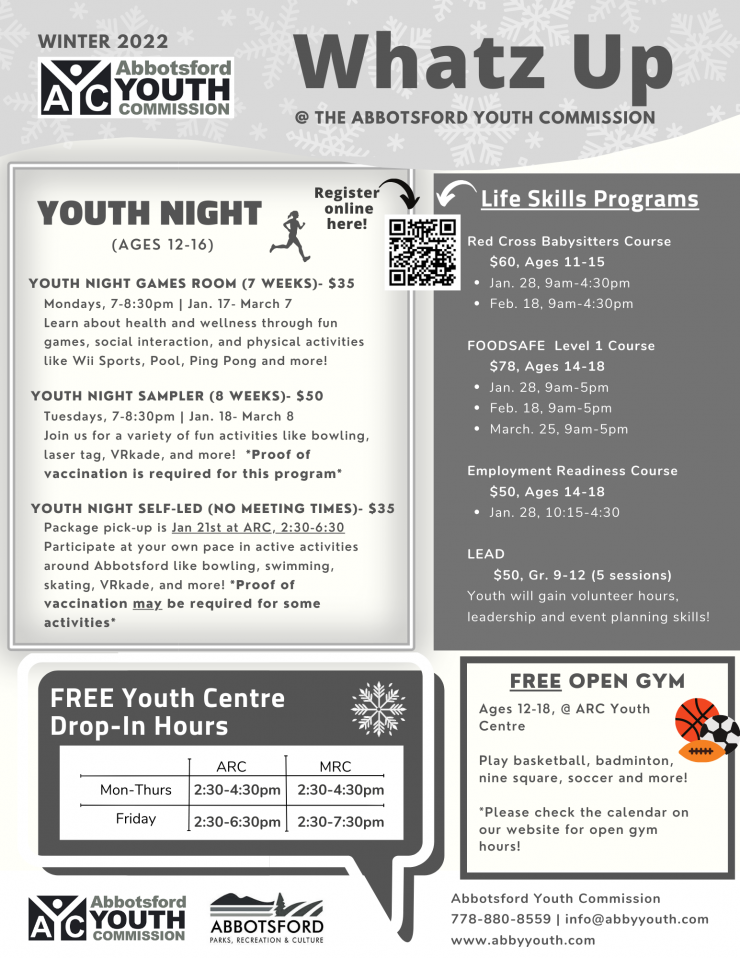 ---