Check Out What We Did In:
Spring 2023 (April - June)
---
Ages 12-16
The main purpose of Youth Night is to encourage youth to live a healthy, balanced lifestyle through exercise and play. Our Youth Nights provide youth with the opportunity to try new sports and activities in a fun atmosphere with no pressure to perform. No skill is required, just the willingness to try.
Youth Night Sampler includes a variety of activities such as VRKade, laser tag, golf, and more! Sign up for either the Tuesday or Wednesday night program here:
---
Ages 14-18
Become a qualified Food Safe Server and be better prepared for employment! The Level 1 course is for food service front-line workers such as bus persons, servers, dishwashers, and cooks. With completion, you will receive a FOODSAFE certificate.
---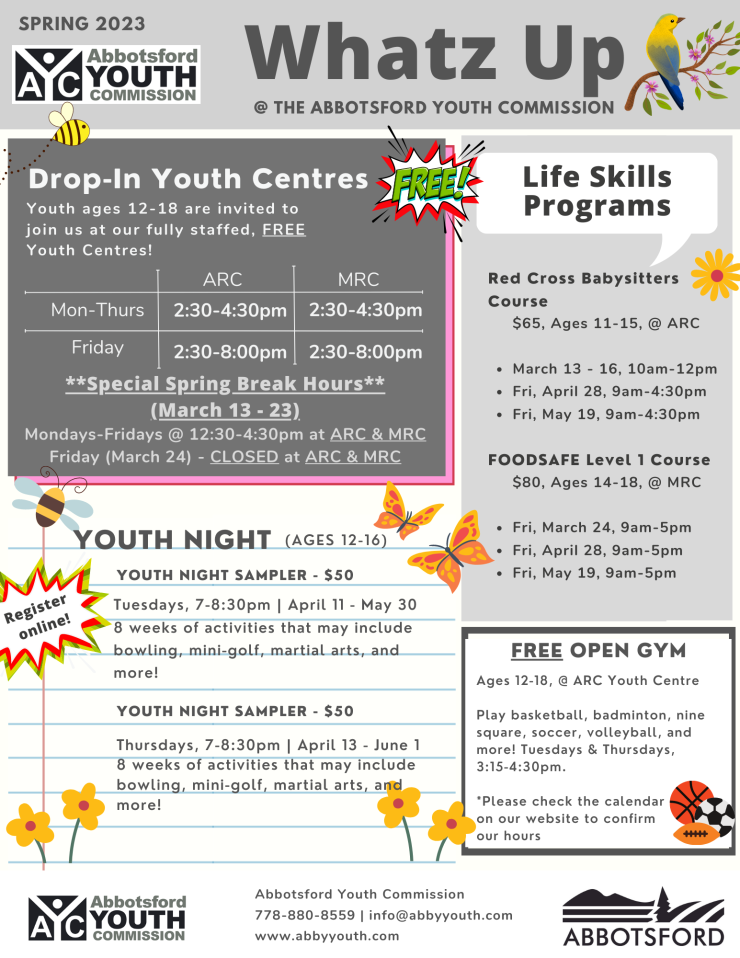 ---
Grades 9-12
LEAD is designed to build self-confidence, create positive life skills and develop a sense of responsibility to the community. This is done through fun team building games and activities. LEAD members will take on planning and implementing a BC Youth Week event during the first week of May.
LEAD is a stepping stone into our Youth Council group.
---
Ages 11-15
Learn tips for having a safe and fun babysitting experience! Find out how to interview for a babysitting job and provide age appropriate games and toys, basic first aid, diapering and feeding techniques and much more.
---
BC Youth Week 2023
FREE
For ages 12-18
A week-long celebration of youth throughout the province, focusing on their achievements through a fun and interactive celebration.
Cities and organizations all across the province are busy planning for BC Youth Week! Please reach out to us or to people in your City to find out what is going on! We will be updating the website with all the details as the information becomes available.
BC Youth Week is May 1 – 7 #AreYouReady ?
For more information about BC Youth Week, visit www.bcyouthweek.com.