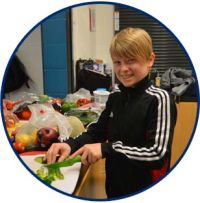 Our Nutrition Program is designed to feed hungry youth a nutritious snack every day after school at each of our two drop-in youth centres and provides an opportunity for youth to improve their food preparation skills as well as their knowledge of nutrition and cooking confidence.
Through this program we are able to provide a healthy After School Snack at our two youth drop-in centres.
Daily snacks include but not limited to:
yogurt and granola
veggies and dip
apple slices, bananas, watermelon
cheese and crackers
pita bread and tzatziki
This Week Snack Plan (please note these are subject to change anytime due to supply availability)
Kabobs
Bananas
Crackers + Cream Cheese + Smoked Salmon
Popcorn
Pizza + Watermelon
Our Friday Dinner Program, funded by the Fraser Valley Indo-Canadian Business Association, takes place once a month at our two youth drop-in centres. This program teaches youth how to prepare and cook simple affordable meals such as: spaghetti and meatballs, pancakes and fruit salad, or tacos. It also allows youth to sit around a table and share a meal with friends!
---