---
We have wrapped up our summer Get a Clue Challenge and are pleased to announce the winners!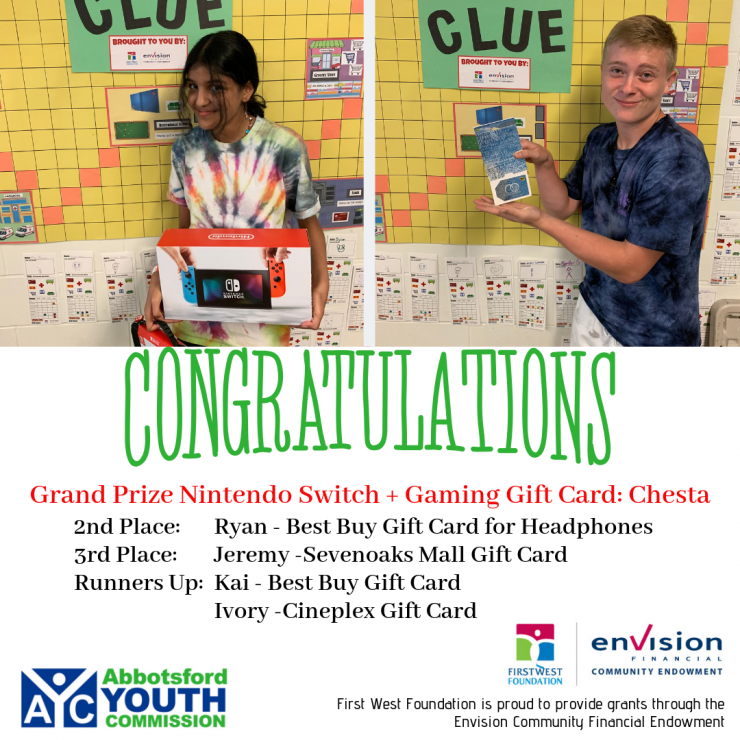 Congratulations to Chesta - the winner of our Grand Prize, a Nintendo Switch plus a Gaming Gift Card!! Well done, Chesta!
Ryan took second place and earned a Best Buy Gift card he will be using to buy headphones.
Jeremy came in third and won a Gift Card to Sevenoaks Mall. We also awarded two Runner Up prizes to Kai (Best Buy Gift Card) and Ivory (Cineplex Gift Card).
We were so impressed with the efforts put forward by all the youth this summer during our Get a Clue Challenge. And we're excited to announce we'll be continuing this challenge through the fall. Get a Clue groups will be held monthly and will focus on themes relating to study skills, physical health and emotional health. Watch for more information coming soon!
We are grateful for the support by First West Foundation of our Get a Clue Challenge!

First West Foundation is proud to provide grants through the Envision Financial Community Endowment
---